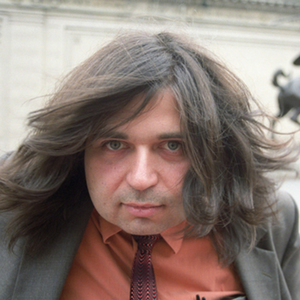 Frank J. Oteri
Host of SoundLives
Frank J. Oteri is the composer advocate at New Music USA and the editor of NewMusicBox, which has been online since May 1999. An outspoken crusader for new music and the breaking down of barriers between genres, Frank has written for numerous publications and has also been a frequent radio guest and pre-concert speaker. Frank is also the vice president of the International Society for Contemporary Music (ISCM) and a board member of the International Association of Music Information Centers (IAMIC). Frank holds a B.A. and a M.A. (in Ethnomusicology) from Columbia University where he served as Classical Music Director and World Music Director for WKCR-FM.
Frank's own musical compositions reconcile structural concepts from minimalism and serialism and frequently explore microtonality. His music has been performed in venues ranging from Carnegie's Weill Recital Hall and the Theatre Royal in Bath, England to the Knitting Factory, the Andy Warhol Museum in Pittsburgh, and PONCHO Concert Hall in Seattle where John Cage first prepared a piano. Among his most widely performed compositions are: Imagined Overtures, a 36-tone rock band piece that has been performed around the country and is the centerpiece of a 2009 CD by the Los Angeles Electric 8; and Last Minute Tango which pianist Guy Livingston has toured around the world and paired with a short film by Thijs Schreuder on his DVD One Minute More. MACHUNAS, a performance oratorio inspired by the life of Fluxus-founder George Maciunas which Oteri created in collaboration with Lucio Pozzi, received its world premiere during the 2005 Christopher Summer Festival in Vilnius, Lithuania; that performance can be streamed in its entirety from the website of the Other Minds Video Archive. Among Oteri's recent vocal works are: Love Games, a setting for girls chorus, harpsichord, and two tambourines of three poems by the Elizabethan sonneteer Mary Wroth, which was commissioned and premiered by the Young People's Chorus of New York City under the direction of Francisco J. Núñez for their Radio Radiance series; (not) knowing the answer, a setting of six sijos by James R. Murphy for unaccompanied vocal ensemble in 13-limit just intonation; and Counting Time in Central City, a setting for unaccompanied SATB chorus of three poems by Charles Passy commissioned by Central City Chorus for their 35th anniversary season, which received its premiere performance in New York City in June 2016. Oteri's Already Yesterday or Still Tomorrow (2020) received its world premiere on January 23, 2021 at 7:30pm CST in a performance by the South Dakota Symphony Orchestra under the direction of Delta David Gier which was streamed for free live from Sioux Falls' Washington Pavilion on the South Dakota Symphony's Facebook page. Oteri's most recent composition, EXIT STRATEGIES (2021), will be performed later this season by the Del Sol String Quartet.
In 2007, Oteri was the recipient of ASCAP's Victor Herbert Award for his "distinguished service to American music as composer, journalist, editor, broadcaster, impresario, and advocate" and, in January 2018, he received the Composers Now Visionary Award. On February 23, 2021, he was featured on Composers Now's IMPACT series. For more information, visit fjoteri.com.
Frank J. Oteri has hosted 24 Episodes.